Wednesday, October 10, 2007
I was at the Coachella show when I first saw these midi controllers in action, thanks to Bjork.
Jazzmutant (Lemur)
Posted by

Dj MSG
at 4:05 PM
No comments:

Tuesday, October 2, 2007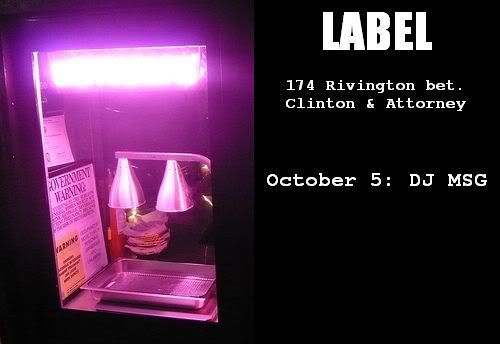 Label is Nick Valencia's new lounge in the L.E.S. & I will be djing there this Friday. (174 rivington between clinton and attorney).
Taken from:
Eater.com
Here's a wacky one for you. Nick Valencia, a former manager of the MePa scene Cielo, has opened Label at 174 Rivington Street. A half-block west of Attorney, it's far enough towards the fringes of the Lower East Side that it might actually turn out to be non-crushing. Plus, what we have here is a hotspot hidden behind the guise of an empanadas joint, which is something you just don't see everyday. As a special bonus, in fact, these homemade Colombian empanadas come direct from the kitchen of Nick's family uptown and the early word is they're damn tasty. But let's be clear: this is not. an. empanadas. joint. It's a music-focused bar and as such Valencia has installed a top-notch sound system for your listening entertainment. What's planned, via official language: "Label will explore the non-commercial end of the electronic music spectrum, to bring you a feel good sound that is deep, sexy, soulful, uplifting, and captivating."
Posted by

Dj MSG
at 2:07 PM
No comments: